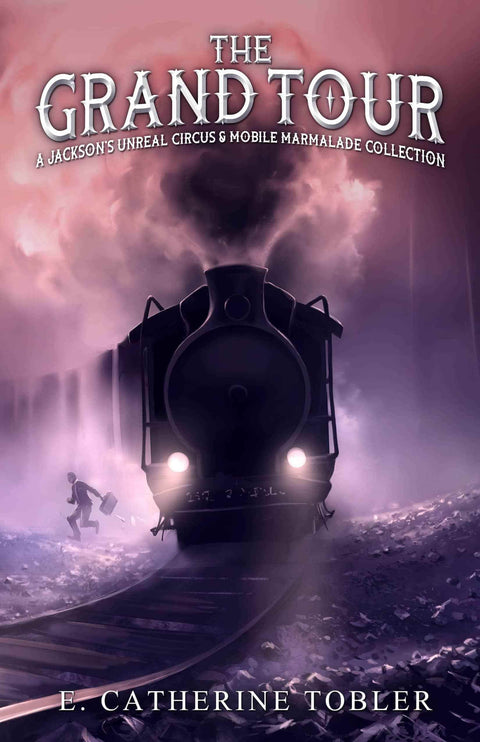 The Grand Tour
ISBN TPB 9781937009816
204 pages
Fantasy adventure readers will delight as they take a trip into this short story collection by E. Catherine Tobler.
Step right up! Come one, come all, to Jackson's Unreal Circus and Mobile Marmalade. The steam train may look older than your great-grandmother's china, but within her metal corridors are destinations you have only ever dreamed. They're real, friends, each and every one—and yours for the taking.
Witness Rabi, Vanquisher and Vanisher Extraordinaire, who can make coins and the past vanish before your very eyes. Dare to visit the Beauty and the Beast, our conjoined twins who are terrible and tortured by turns. Sample Beth's marmalade, the sticky sweetness containing the very memory of the day you turned sixteen, and your beloved's lips touched yours once and never again.
It's worth the price, traveler. Jackson's Unreal Circus is where you can be whoever or whatever you want. Whether it be a ride on the Ferris wheel, slipping inside a skin that is not your own, or the opportunity to live as you never have before—it is all possible on this, the grandest of tours. The train beckons you—come, come!
For the first time, E. Catherine Tobler has compiled a collection of her popular circus stories. With nine stories ranging from the first published work within this universe to a previously unreleased piece, this is your ticket to her magical world. Welcome to The Grand Tour.
Contains the following destinations:
"Vanishing Act"
"Artificial Nocturne"
"We, As One, Trailing Embers"
"Liminal"
"Blow the Moon Out"
"Ebb Stung by the Flow"
"Lady Marmalade"
"Every Season" (original to this collection)
"Inland Territory; Stray Italian Greyhound"
Also features a special introduction by Hugo-nominated author A.C. Wise! Includes interior accompanying art by Tressina Bowling.

Cover art by Cyril Rolando
Read a sample from this book
Excerpt from "Vanishing Act"

Jackson's Unreal Circus and Mobile Marmalade picked her up a day outside Denver. Jackson wouldn't stop for a cow on the tracks, but he stopped for this little thing, with her pale hair and paler eyes. Brought the entire train to a stop to scoop her from the tracks with his long arms.

She huddled against his chest, her small body nearly folded in on itself, and we all watched, in confusion and fascination both. The long hem of her dirty shift caught the cowcatcher and the remains of said beast.

She was none of my concern, but Jackson placed her in my car and made her just that. He lay her down in the corner, in my favorite chair, my only chair. She looked all the more pale against the blue and gold stripes. Their brilliance had long since faded but looked new against her washed-out skin. Her bare feet were crusted with dirt and muck and I didn't look much beyond that.

I was working with the quarters when she began to wail, rolling them across my fingers before trying to turn them into nickels. The steam whistle crowed as we crossed the state line, Colorado into New Mexico, and she came alive as though submerged in hot water.

About E. Catherine Tobler
E. Catherine Tobler has never run away with the circus, but there's still time. Among others, her short fiction has appeared in Clarkesworld, Lightspeed, and Apex Magazine. She edited the World Fantasy and Hugo-finalist Shimmer Magazine and co-edited the World Fantasy Award finalist anthology, Sword & Sonnet.