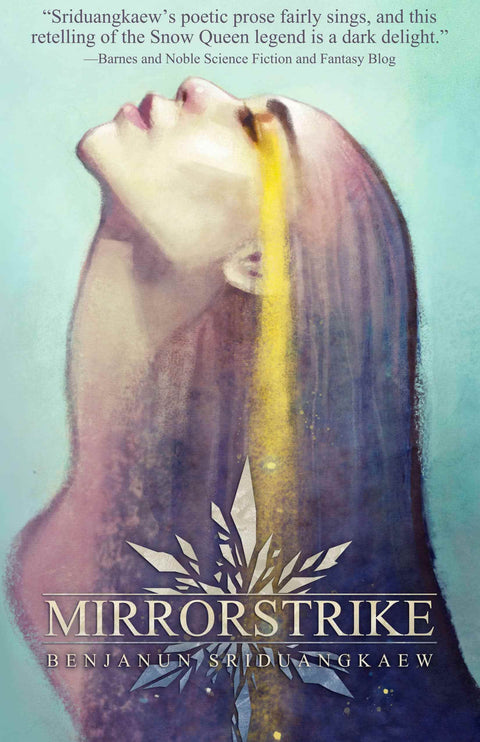 Mirrorstrike
Book 2 of the Her Pitiless Command series
ISBN TPB 1937009734
160 pages
Political intrigue and romance highlights this gorgeous dark fantasy novella rooted in Han Christian Anderson's Snow Queen fairy tale. This is the second book of the author's Her Pitiless Command series.
With her mother's blood fresh on her hands, Nuawa has learned that to overthrow the tyrant Winter Queen she must be as exact as a bullet ... and as pitiless.
In the greatest city of winter, a revolt has broken out and General Lussadh has arrived to suppress it. She's no stranger to treason, for this city is her home where she slaughtered her own family for the Winter Queen.
Accompanying the general to prove her loyalty, Nuawa confronts a rebel who once worked to end the queen's reign and who now holds secrets that will cement the queen's rule. But this is not Nuawa s only predicament. A relentless killer has emerged and he means to hunt down anyone who holds in their heart a shard of the queen's mirror. Like the general. Like Nuawa herself.
On these fields of tumult and shattered history, the queen's purposes will, at last, be revealed, and both Lussadh and Nuawa tested to their limits.
One to wake. Two to bind. These are the laws that govern those of the glass.
While the second book of the Her Pitiless Series, this book works well as a standalone title.
Cover art by Cover art by Anna Dittman. Jacket design by Mikio Murikami
Read a sample from this book
Lussadh hunts. The night is deep and the frosted roofs gleaming with ice, but she is used to both. She moves with precision, a foot in a crack between slates, another on a ledge that would bear her weight but only just. It is quiet. Cities under siege always are: she knows from experience, having been on both the defending and invading ends. For those defending, familiar streets and intersections distort; all laws and rules shift to accommodate the factors of combat always impending.

She glances briefly behind her shoulder, in the direction where her army camps, awaiting her next command. From this distance they are not visible, obscured by the high, high walls. Citizens of Kemiraj may even pretend they are at peace and that their magistrate has not revolted against the Winter Queen. She turns her gaze back to her destination, inhaling the clean, crystalline air. When was it that she's become at home wherever snow is, has taken the queen's element as her own? It must have been gradual, but it has happened so seamlessly that she no longer remembers a time when she felt otherwise and called herself a child of the desert.

Not that there's much desert left, now.

A step, then another. She climbs until there is no further handhold and no further roof. A gap yawns between the platform she occupies and the top of the wall that protects the magistrate's mansion. She judges the distance, draws back, and leaps.

She lands easily, with minimal noise. A matter of training—from her youth she was tutored by court assassins—and a matter of agility granted by the queen's mirror. The slight, subtle strengths that together come to something more. Lussadh will be fifty soon and hardly feels the fact. Her body may not be the tireless engine it was at sixteen or twenty-five, but it remains formidable, lightly touched by age. Joints and muscles well-oiled as ever. A day will come when all these fail, but through her queen's blessing, that is yet held at bay.

About Benjanun Sriduangkaew
Benjanun Sriduangkaew writes love letters to strange cities, beautiful bugs, and the future. Her work has appeared on Tor.com, in Beneath Ceaseless Skies, Clarkesworld, and year's best collections. She was shortlisted for the Campbell Award for Best New Writer, and her debut novella Scale-Bright was nominated for the British SF Association Award. She is the author of Winterglass, Mirrorstrike, and And Shall Machines Surrender. She has lived in Bangkok, Hong Kong, and Jakarta.