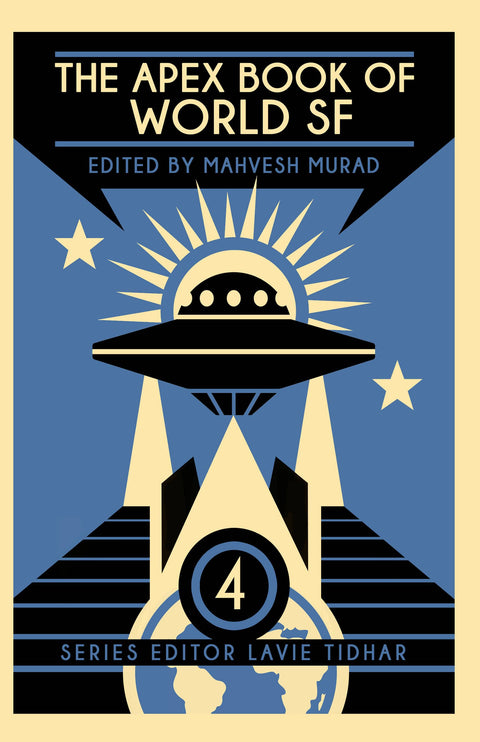 The Apex Book of World SF: Volume 4
Mahvesh Murad and Lavie Tidhar
Volume 4 of The Apex Book of World SF
ISBN TPB 9781937009335
336 pages
The Apex Book of World SF: Volume 4, edited by Mahvesh Murad, features award-winning science fiction and fantasy short stories from western Europe, east Asia, and the Middle East.
From Spanish steampunk and Italian horror to Nigerian science fiction and subverted Japanese folktales, from love in the time of drones to teenagers at the end of the world, the stories in this volume showcase the best of contemporary speculative fiction, wherever it's written.
Contains the following stories from around the world:
Vajra Chandrasekera (Sri Lanka) — "Pockets Full of Stones"
Yukimi Ogawa (Japan) — "In Her Head, In Her Eyes"
Zen Cho (Malaysia) — "The Four Generations of Chang E"
Shimon Adaf (Israel) — "Like a Coin Entrusted in Faith" (Translated by the author)
Celeste Rita Baker (Virgin Islands) — "Single Entry"
Nene Ormes (Sweden) — "The Good Matter" (Translated by Lisa J Isaksson and Nene Ormes)
JY Yang (Singapore) — "Tiger Baby"
Isabel Yap (Philippines) — "A Cup of Salt Tears"
Usman T Malik (Pakistan) — "The Vaporization Enthalpy of a Peculiar Pakistani Family"
Kuzhali Manickavel (India) — "Six Things We Found During the Autopsy"
Elana Gomel (Israel) — "The Farm"
Haralambi Markov (Bulgaria) — "The Language of Knives"
Sabrina Huang (Taiwan) — "Setting Up Home" (Translated by Jeremy Tiang)
Sathya Stone (Sri Lanka) — "Jinki and the Paradox"
Johann Thorsson (Iceland) — "First, Bite a Finger"
Dilman Dila (Uganda) — "How My Father Became a God"
Swabir Silayi (Kenya) — "Colour Me Grey"
Deepak Unnikrishnan (The Emirates) — "Sarama"
Chinelo Onwualu (Nigeria) — "The Gift of Touch"
Saad Z. Hossain (Bangaldesh) — "Djinns Live by the Sea"
Bernardo Fernández (Mexico) — "The Last Hours of the Final Days" (Translated by the author)
Natalia Theodoridou (Greece) — "The Eleven Holy Numbers of the Mechanical Soul"
Samuel Marolla (Italy) — "Black Tea" (Translated by Andrew Tanzi)
Julie Novakova (Czech Republic) — "The Symphony of Ice and Dust"
Thomas Olde Heuvelt (Netherlands) — "The Boy Who Cast No Shadow" (Translated by Laura Vroomen)
Sese Yane (Kenya) — "The Corpse"
Tang Fei — "Pepe" (Translated by John Chu)
Rocío Rincón (Spain) — "The Lady of the Soler Colony" (Translated by James and Marian Womack)
Cover art by Sarah Anne Langton
Read a sample from this book
1. PLAYBOY

A Playboy was hidden behind her jaw, rolled and bent like she had stashed it there in a hurry. Black and white alarm clocks were pasted over the women's breasts and the words !wUt aLarming bOobeez! were scrawled across the stomachs. It was hard to tell if she had done this herself or if someone else had done it for her.

We could not find any incisions so we decided she must have rammed the Playboy into her ear and hoped for the best. We thought this made her stoic, medically marvelous, and gay. We wondered if she had a secret crush on one of us and while we unanimously agreed that this was possible, we knew in our hearts that it was not.

2. BLACK ANTS

The ants were an ongoing observation, like watching fish. They floated up gently through her skin, broke the surface, and lay there like the journey had made them tired and they just needed to lie down for a while. We discovered that there were no ants near her elbows but could not come to a consensus as to how this was significant. We thought we saw something that resembled an abnormally thick spiderweb under her pancreas and decided not to pursue that line of inquiry because it obviously had nothing to do with the ants.

We wondered if she had let the ants in or if they had smashed their way through her, vandalizing her body with starred and spangled railroads, towers, and pornography. Now that she was dead, the ants probably had no reason to stay. We thought this was heartbreaking but also the best option for everyone involved.

3. ANGELS

The angels were clustered and nested behind her heart and lungs. They had to be pulled out with tweezers, which was not easy because they kept hanging onto her esophagus with their angry fingers and teeth. They had no nipples, bellybutton, or genitalia, which made them like dolls but we did not feel like combing their hair. Their feet looked like hands and they dug their heels into our faces as a sign of protest. They caterwauled. They sounded like prehistoric birds that were heartbroken because they were going to die in the evening.

We thought she must have been a closeted Catholic. We thought she had probably been more into the angels than she was into Jesus, which is why she had allowed them to stay in such a communally sensitive area. We thought it was racist to assume that only Catholics had an affinity for angels.

4. ST. SEBASTIAN

St. Sebastian was tied to her spinal column, eyes looking heavenward, an arrow running into his chin and out of his forehead. His body was peppered with arrows but it was the one through his forehead that made us untie him. We thought that untying him would make him feel better. We didn't touch the arrow because we thought it would make his head fall off.

We thought the angels and St. Sebastian were probably good friends. We imagined them hanging out in the late afternoon, folding discarded angel wings into boats and sailing them on her bloodstream, hoping they would return filled with things that were sweet and useful.

5. TYPHOID

It was only later when we were delirious, sour-mouthed, and tired, that we realized we all had typhoid. While we waited for it to go away, we cleverly and calculatingly deduced where we got it from. The typhoid was a shiny black slab that was stuck to the back of her liver. It came apart in layers but could not be removed completely.

We thought she was a typhoid carrier. We thought she had probably infected all of us and the typhoid was sticking to our livers too. We decided that we were angry at the world and this was what people with cancer felt like. We thought it must be a neat thing to be a typhoid carrier.

6. PLAYGIRL

The Playgirl was spread across her ribcage like a placemat. Hairless, half-aroused men stared sexingly into our faces and we looked at their half-arousal and sighed. We pasted the heads of Siberian Huskies onto their faces and decided this made them more regal and less attainable. We also decided that if we ever created a pantheon of Gods, there would be a set of twins who would be bare-chested and Siberian Husky-headed.

We knew she was the only one who could have made it with a hairless, half-aroused Playgirl man with a Siberian Husky head. We imagined it happening in a series of well-lit photographs where she and the Playgirl man were naked and open-mouthed but not sweating. We contrasted the open Playgirl with the rolled and bent Playboy and decided that she had been conflicted about her sexuality. We thought we could have been the awesome friends who held her hand while we dragged her out of the closet. We thought we could have convinced her it was okay to like girls even if she didn't like any of us.
About Mahvesh Murad and Lavie Tidhar
Lavie Tidhar is the author of the Jerwood Fiction Uncovered Prize-winning A Man Lies Dreaming, the World Fantasy Award-winning Osama, and of the critically-acclaimed The Violent Century. His other works include the Bookman Histories trilogy, several novellas, two collections, and a forthcoming comics mini-series, Adler. He currently lives in London.

Mahvesh Murad is a book critic and recovering radio show host. She writes for multiple publications and hosts the Tor.com podcast Midnight in Karachi. She was born and raised in Karachi, Pakistan, where she still lives.