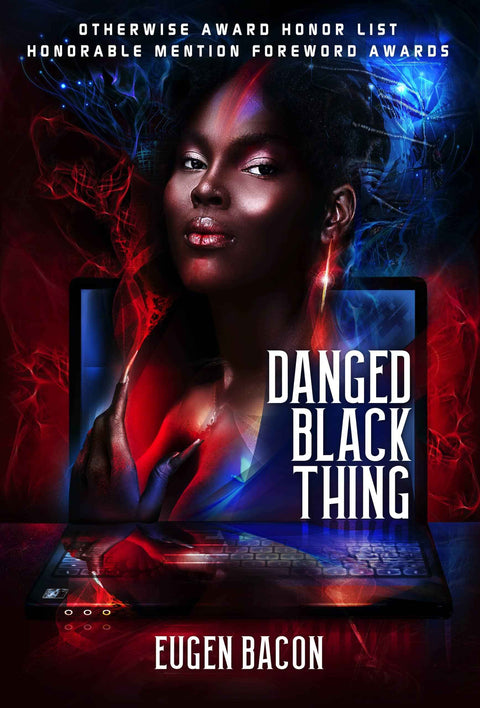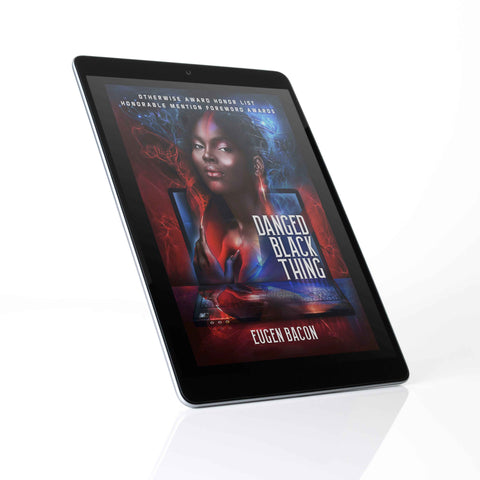 Danged Black Thing
ISBN TPB 9781955765114
164 pages
Danged Black Thing is an extraordinary collection of stories about love and migration, gender and class, patriarchy and womanhood, from a remarkable and original voice. Traversing the West and Africa, they celebrate the author's hybridity with breathtaking sensuousness and lyricism.
Simbiyu wins a scholarship to study in Australia, but cannot leave behind a world of walking barefoot, the orange sun, and his longing for a "once pillow-soft mother." In his past, darkness rose from the river and something nameless and mystical continues to envelop his life. In "A Taste of Unguja" sweet taarab music, full of want, seeps into a mother's life on the streets of Melbourne as she evokes the powers of her ancestors to seek vengeance on her cursed ex. In the cyberfunk of "Unlimited Data" Natukunda, a village woman, gives her all for her family in Old Kampala. Other stories explore what happens when the water runs dry—and who pays, capture the devastating effects on women and children of societies in which men hold all the power, and themes of being, belonging, and otherness.
Speculative, realistic, and even mythological, but always imbued with truth, empathy, and Blackness, Danged Black Thing is a literary knockout.
"With poetic prose, an eclectic range of subgenres, and affecting observations on Blackness and womanhood, this collection showcases Bacon at the top of her game." —Publishers Weekly (Starred Review)

"The writing is bold, sensual, breathtakingly good." —Angela Savage
"Her writing is equal parts fecund earth and fine-cut jewels; her stories juxtapose the scarred and abused with the powerfully magical, the numinous and the deceptively mundane." —Margo Lanagan
Read a sample from this book
EXCERPT FROM "THE WATER RUNNER"

THEIR SEX gave the unit a sweet musty odor like a ripened durian fruit. Zawadi lay with Mapesa a moment on the thin bed in her one-roomer, separated from the other tenants in the government complex by a box-pleat curtain she'd wrangled from a mtumba second-hand bundle. A baby was crying – groaning, more like it. Later, she stood outside in a blast of crimson desert sand, softer on her skin at dawn.


She felt thirsty and imagined cold, clean water washing down her throat. She thought of New Dodoma, the world out yonder that promised the sizzle of a shower like rain from a sleek chrome head in an en suite full of blinking marble and blond rustic wood.


She leant against the wall, tightened her dust scarf, and pictured rubbing the milk of shea butter on her elbow. It was extraordinary, beautiful that world, a place you got beer with a haircut. There, streets had names like Miriam Makeba Road, Fela Kuti Drive, Kidjo Avenue, Masekela Lane. Towers steepled to the sky, esplanades and water everywhere.


But in this beforehand, inside Old Dodoma, she had decisions to make – and the conclusions came along with judgements and mitigating circumstances that were too reckless to leave to chance.


Technology had improved on most things except housing, the climate, and scarcity of water. She rubbed on the jasmine dry wash that came with moisturizer. She licked the powder that fumigated her mouth, eradicated from her tongue the taste of sleep and Mapesa.


She looked at the curtain – Mapesa's idea. "Tenants equal more credits," he'd said, not long after they moved in together.


"Dear one," she said now, as he dressed into his cli-suit for work. "Let me know how you go."


"Easy," he said, the gold in his youthful eyes dancing. He flashed his suave smile, the one that softened her knees.
About Eugen Bacon
Eugen Bacon is an African Australian author of several novels and fiction collections. She's a twice World Fantasy Award finalist, a British Fantasy Award finalist, a Foreword Book of the Year silver award winner, and was announced in the honor list of the 2022 Otherwise Fellowships for 'doing exciting work in gender and speculative fiction'. Danged Black Thing by Transit Lounge Publishing was a finalist in the BSFA, Foreword, Aurealis and Australian Shadows Awards, and made the Otherwise Award Honor List as a 'sharp collection of Afro-Surrealist work'. Eugen's creative work has appeared worldwide, including in Apex Magazine, Award Winning Australian Writing, Fantasy Magazine, Fantasy & Science Fiction, and Year's Best African Speculative Fiction. Visit her website at eugenbacon.com and Twitter feed at @EugenBacon