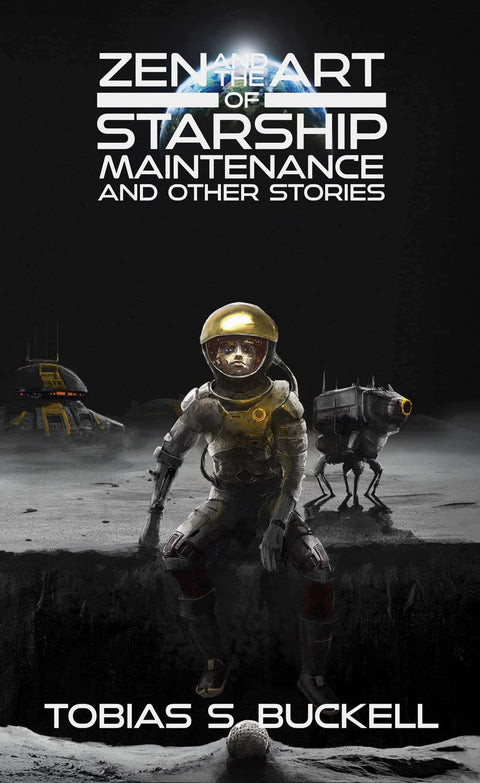 Zen and the Art of Starship Maintenance and Other Stories
ISBN TPB 9781955765091
262 pages
Zen and the Art of Starship Maintenance and Other Stories
is Tobias S. Buckell's seventh short fiction collection and is comprised of 15 stories, several of which are original to the collection or were previously only available through his Patreon.

This collection ranges from galactic adventures to intimate explorations of humanity—sometimes in the same story—rich with a sense of wonder and deft storytelling.

Contains includes the following stories:
Io, Robot
A Jar of Goodwill
Pale Blue Memories
Zen and the Art of Starship Maintenance
The Mighty Slinger
Sunset
Chi's Cargo
Destination Day Blues
The Galactic Tourist Industrial Complex
Five Point Three Milligrams
By the Warmth of Their Calculus
DW
The Very Last Curator of What Little Remains of the Western World
A Girl and Her Rover
The Longest Distance
Cover art by Pawel Dabrowski
Read a sample from this book
He's not a dog, but he is a rover, and that's about as close as she's going to get here on the moon while on her adventure to find a golf ball so that they all don't get sent back to Earth. And unlike a dog, Rover can spring his way around the lunar surface without needing a spacesuit, so he's far more useful.


Anne hates that Candice calls it Rover and that Candice insists on using verbal commands only to interface with the six-legged mechanical crab that they use as a mobile sled. But standing in front of Candice's imagination is like trying to beat back the tide with a sword. That's what Dad said to Anne with a wry smile.


"Come on Rover!"


Ten miles Candice has legged it in an EVA suit. Her breath has fogged the glass helmet so bad that rivulets of water pool around her neck, causing a crackle in her throat mic.

About Tobias S. Buckell
Tobias S. Buckell is a New York Times best-selling author and World Fantasy Award winner born in the Caribbean. He grew up in Grenada and spent time in the British and US Virgin Islands, which influence much of his work.

His novels and almost one-hundred stories have been translated into twenty different languages. His work has been nominated for awards like the Hugo, Nebula, World Fantasy, and the Astounding Award for Best New Science Fiction Author.


He currently lives in Bluffton, Ohio with his wife and two daughters where he teaches Creative Writing at Bluffton University. He is also an instructor at the Stonecoast MFA in Creative Writing program.


Find him online at www.TobiasBuckell.com.