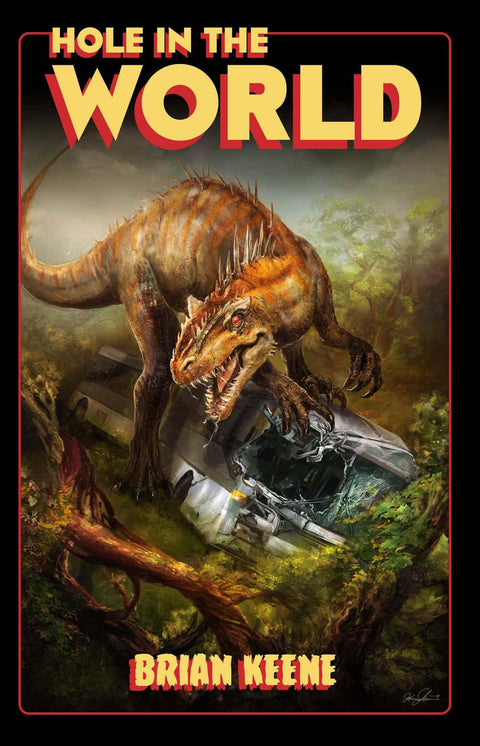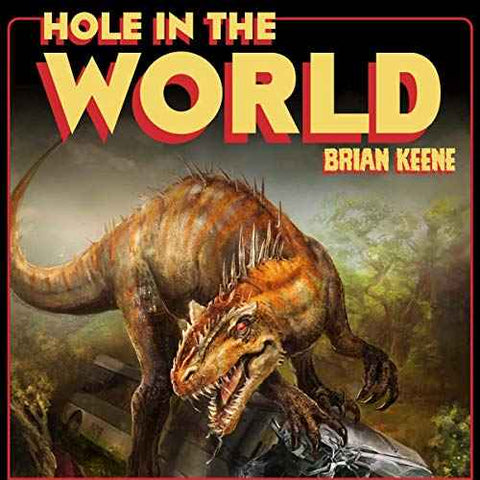 Hole in the World
Book 3 of The Lost Level Series
ISBN TPB 978-1937009724
282 pages
Horror icon Brian Keene delivers otherworldly thrills in the third book of his lost world fantasy series Hole in the World.
An hour ago, they were nineteen strangers on an airport shuttle, braving travel delays and a freak blizzard. Then they fell through a hole in the world. Now, they are nineteen strangers trapped in a dangerous dimension filled with prehistoric monsters, futuristic technology, and otherworldly mysteries. They'll have to learn to work together if they want to survive and return home ... but will any of them be left alive by then?

This book is easily read as a standalone, but will certainly enhance your enjoyment of The Lost Level and Return to the Lost Level.
Cover art by Kirsi Salonen
Read a sample from this book
Paul Goblirsch, H Michael Casper, and Mark Sylva—from Arizona, Minnesota, and Ohio, respectively, and the friends of Chris Hansen and Leigh Haig, who were seated at the front of the bus—had no idea anything was wrong until the bus crashed and the screams began.

And by then, it was too late.

Paul was thrown forward into the aisle as the vehicle slammed into what felt like a brick wall.
He wondered if they'd hit a tractor trailer or something. Then he was sliding up the aisle, and the rough, porous, black surface scraped the skin off his outstretched palms and the side of his face. He howled in pain.

The bus flipped over on its side, tossing passengers and luggage like they were rag dolls. The people's screams turned to shrieks.
Wailing, H was smashed against the window. He heard the glass shatter, but couldn't tell if it was broken or not, because his vision blurred from pain and shock. He tasted blood in his mouth, and the side of his head felt warm and wet. Then his vision blurred.

Mark was tossed forward, as well, but instead of sliding down the aisle like Paul had done, he landed on another passenger, a younger man with long hair who seemed terrified and bewildered.

"Sorry …" Mark winced. "Are you okay, pal?"

"It was the dinosaur," the man gasped. "We must have hit it."

Then the younger man passed out.

Mark slowly clambered to his feet as the shuttle rocked back and forth. His jaw hurt, and when he probed his teeth experimentally with his tongue, he discovered that one of them was loose.

Then he looked up, saw what was outside, and joined in the screaming.

About Brian Keene
BRIAN KEENE is the Bram Stoker and Grand Master award-winning, bestselling author of over forty books, including Darkness on the Edge of Town, Take the Long Way Home, Urban Gothic, Castaways, Kill Whitey, Dark Hollow, Dead Sea, and The Rising trilogy. He's also written comic books such as The Last Zombie, Doom Patrol, and Dead of Night: Devil Slayer. His work has been translated into many foreign languages. Several of his novels and stories have been developed for film, including Ghoul and The Ties That Bind. In addition to writing, Keene also oversees Maelstrom, his own small press publishing imprint specializing in collectible limited editions via Thunderstorm Books. Keene's work has been praised in such diverse places as The New York Times, The History Channel, The Howard Stern Show, CNN.com, Publisher's Weekly, Media Bistro, Fangoria Magazine, and Rue Morgue Magazine. Keene lives in Pennsylvania. You can communicate with him on Twitter at @BrianKeene.