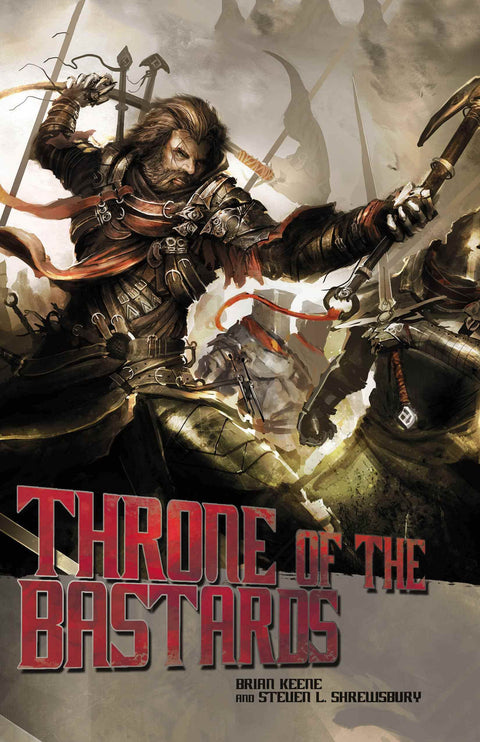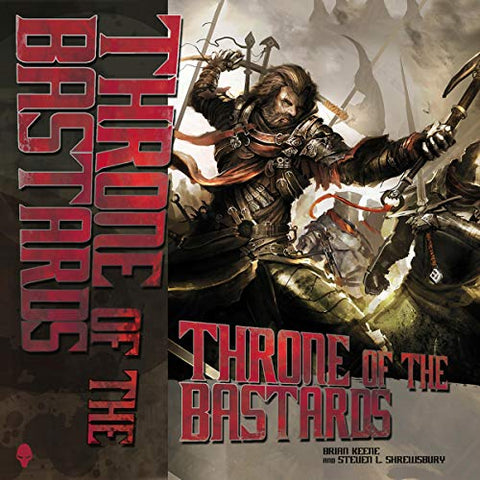 Throne of the Bastards
Steven L. Shrewsbury and Brian Keene
Book 2 of the Saga of Rogan
ISBN TPB 9781937009601
194 pages
Sword and sorcery collide with horror once again in this sequel to Brian Keene and Steven L. Shrewsbury's award-winning KING OF THE BASTARDS.
Learning that his family is in danger, Rogan returns to his former kingdom, now under siege from foreign invaders and supernatural forces led by his bastard son. With time running out, the aging barbarian and his trusted companions, Javan and Akibeel, must forge an alliance of new friends and old foes, mustering an army to retake the kingdom. Surrounded by savages, soldiers, demons, and dark magic, it will take all of their cunning, skill, ruthlessness, and courage to survive the slaughter and determine once and for all who shall sit upon the THRONE OF THE BASTARDS.
Cover art by Daniel Kamarudin
Read a sample from this book
Rogan, born in a savage age before the great flood, was sliced from his mother's belly by his father, Jarek. Raised into barbarism among the fabled Keltos folk in the Caucaus Mountains, Rogan accepted violence as a simple way of life.

Roaming the lands north of the Black Sea, Rogan grew strong amongst his rugged kin. He soon wearied of a life disrupting the obsidian trade from the East, and raiding the great cities of Chanoch, Urak, and Jericho. So Rogan journeyed west, crossing the land bridge at Bosporus. The accounts of his adventures during this time have been thought lost in the deluge, but recently pieced together by Miskatonic professor Elijah Blackthorn.

Eventually, Rogan became a mercenary for King Akhensobek, ruler of Kemet. Rogan lead the king's armies until a tryst with the royal daughter aroused Akhensobek's ire. As punishment, Rogan was walled up alive inside the great idol of the reclining Cat god, Bastet. After a miraculous escape, Rogan slew the king, his 150 children and returned to the primal kingdoms of the north.

Cutting a bloody swath through the lesser realms of Lascaux, Agudea, and Gordes, Rogan became a leader in the revolutionary forces of General Thyssen in Albion. The two men became great friends and comrades at arms. Thyssen wished to oust Silex, the cruel ruler of the realm of Albion. The revolution ended when Rogan seized the crown from Silex's decapitated head and placed it on his own.

Rogan's rule of Albion ran stern but fair. Thyssen was given command of Albion's military might. Border clashes with native Prytens and their savage Queen Tancorix kept them busy for decades. Rogan wed Thyssen's sister, Desna, and sired an heir, Rohain. Several more children followed and Rogan came to know contentment, however fleetingly. After the death of Queen Desna in childbirth, however, Rogan grew weary of palace life and abdicated his throne to Rohain.

Accompanied by his nephew Javan, the youngest son of General Thyssen, and his bodyguards, Rogan journeyed across the western ocean, discovering fabled lands and great cultures far to the south in the new world, beyond the edges of scholar's maps. There, Rogan set about adventuring again with the aid of fresh friends from the mysterious realm of Olmek-Tikal.

Attacked on the sea by raiders from his former kingdom, Rogan fights with Karza—a warrior who claims to be his son. Karza tells Rogan that his brother, supposedly another of Rogan's bastard sons, has toppled Rohain from the throne of Albion. Rogan kills Karza, with some assistance from Javan. In the great ensuing fight, wrought with monsters and the magic of Damballah, only Rogan and Javan survive, shipwrecked. They are soon befriended by the Kennebeck folk, natives of the land, and their shaman, Akibeel. Javan becomes romantically involved with a young warrior named Zenata.

In an effort to return to his kingdom, Rogan agrees to help Akibeel, whose folk are threatened by a dire time-traveling wizard on a mountain, who brings forth a member of the Thirteen, Meeble, to that reality. While Javan and the Kennebeck battle the monsters and minions of the wizard, Rogan engages Meeble in hand-to-hand combat, successfully pushing him through a portal and back into the Labyrinth.

When Captain Xuxan, an old friend from Olmek-Tikal, finds them, Rogan—now joined by Akibeel and his Kennebeck warriors—vows to go back to his overturned kingdom and spill light and blood on the shadows that grip it…

About Steven L. Shrewsbury and Brian Keene
STEVEN L. SHREWSBURY lives, works, and writes in rural Illinois. Over three hundred and sixty of his short stories have been published in print or electronically, along with over one hundred poems. His novels include Godforsaken, Overkill, Thrall, Bedlam Unleashed, Hawg, Tormentor, Stronger Than Death, Hell Billy, Bag Magick, and many more—all running the gamut from sword and sorcery to historical fantasy to horror. A husband and father, he loves books, British television programs, guns, movies, politics, sports, and hanging out with his family. He looks for brightness wherever it may hide.

BRIAN KEENE writes novels, comic books, short fiction, and occasional journalism for money. He is the author of over fifty books, mostly in the horror, crime, and dark fantasy genres. His 2003 novel, The Rising, is often credited with inspiring pop culture's current interest in zombies. He has won numerous awards and honors, including the 2014 World Horror Grandmaster Award, 2001 Bram Stoker Award for Nonfiction, 2003 Bram Stoker Award for First Novel, 2004 Shocker Award for Book of the Year, and Honors from United States Army International Security Assistance Force in Afghanistan and Whiteman A.F.B. (home of the B-2 Stealth Bomber) 509th Logistics Fuels Flight. The father of two sons, Keene lives in rural Pennsylvania.