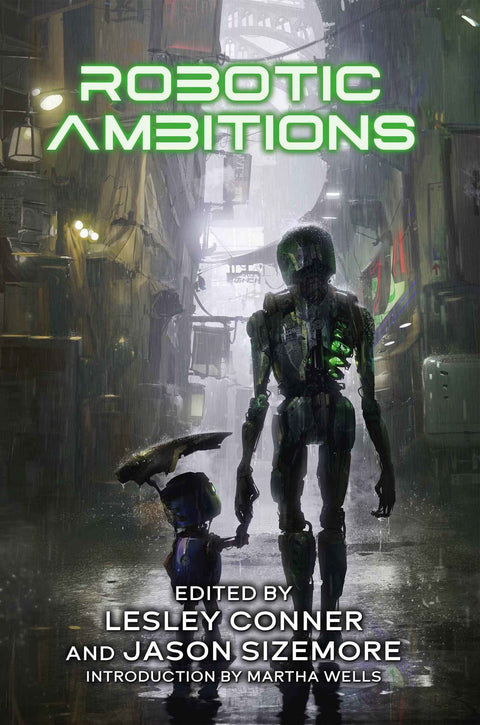 Robotic Ambitions: Tales of Mechanical Sentience
Lesley Conner and Jason Sizemore
ISBN TPB 9781955765138
354 pages
Whether striving to protect the family they've chosen, searching for meaning amid the chaos of the world, or questioning what it is that makes one alive, robotic ambition can mean many different things.
Robotic Ambitions: Tales of Mechanical Sentience
explores the nuance of sentience manufactured and evolved within mechanical beings. It peels back the metal exterior and takes a hard look at what is inside.
Within these pages you will discover stories of robots defying their coding for a chance at love, resisting societal norms so that they may experience art and pleasure, and searching for their place in a world that was not made for them, but rather was made to use them. These are stories about striking out on your own, building something new amid destruction, and doing whatever it takes to make sure you survive. Robots and AI are more than tools for humanity. They have their own goals, dreams, and aspirations,
This anthology includes stories by Lavie Tidhar, Premee Mohamed, Oghenechovwe Donald Ekpeki, Jason Sanford, and many more.
TABLE OF CONTENTS
Introduction by Martha Wells
It-Who-Dreams-Under-Grey-Clouds in The-Town-Within-The-City by Marie Croke
She Builds Quick Machines by Lyndsie Manusos
Out There With Them by N.V. Haskell
Prospecting by Lavie Tidhar
The Caregivers by Marie Vibbert
The Town Full of Broken Tin Men by Danny Cherry Jr.
Ark by Liam Hogan
A Still Life by Elliott Wink
The City in the Forest by Premee Mohamed
An Incomplete Record of Databank Deltions, in Alphabetical Order by Mar Vincent
Built to Cheat by Derrick Boden
The Big Book of Grandmamas by Sheree Renée Thomas
Everything else is advertising by J Wallace
Alice & Lucy by Edward Daschle
Fearfully and Wonderfully Made by Izzy Wasserstein
A Lifeline of Silk by Renan Bernardo
Little Fathers of Darkness by Jason Sanford
Solar Sonata for Four Hands by Jennifer R. Donohue
Tenets of Ascendance by Oghenechovwe Donald Ekpeki and Somtu Ihezue
Intersecting Datafields by Myna Chang
A Fragility, a Shaddow by Leah Ning
Insatiable Life by Kathleen Schaefer
Ribbit by Mona West
How to Get to Be a Three-Thousand-Year-Old-Mining AI by Nick Hartland
An Android in the Desert by Rachel Gutin
Cover art by Vincent Lefevre
Read a sample from this book
From "The Still Life" by Elliott Wink

The Pierce Hotel, 2201

The Pierce Hotel on Sutter Street was experiencing a dry
spell. Day after day there were no patrons, no phone calls, and no emails. Except for myself and Lydia, who still emerged to clean the rooms each day, no one had been inside The Pierce for over two and a half decades.

We were once among the busiest independent hotels in San Francisco. The tourists loved our brick walls and dim lighting, our heavy curtains and real wood 4oors. We were quaint in our twentieth-century antiquity, and it seemed that people just craved the past. As the hotels around us upgraded with every new wave of luxury, we remained the same. One of the managers said we'd never upgrade because the owners were cheap. Though Maurice would have countered that his great-grandfather and the rest of them were true visionaries. "New isn't always better," was his favorite phrase.

But the waiting list dwindled, people stopped keeping their reservations, and then one day we were empty. I thought Maurice would be furious; I imagined him throwing the doors open, his large stomach heaving with exhaustion and frustration, demanding to know why his bank account was no longer padded. But he never came. Part of me still wondered if he wasn't going to walk through that door, wrinkled and gray, and demand to know what had gone wrong twenty-six years after the drought had started.

Nonetheless, I checked the hotel email and voice mailbox in fifteen minute intervals, in case there had been an interruption in service or something had finally come through. Part of me expected there to be a message waiting, like in the old days when it was busy, but there never was. By my estimations, we were the least visited hotel in the entire Bay Area, and I wondered how we even kept the lights on.

But it was not my job to worry about the lights.

My function was to be the face of The Pierce Hotel. I was the first face guests saw when they arrived, and the last one they viewed before they left. I was always smiling, and, oh, I have such a great smile—warm and inviting, but not expectant. No one would feel required to interact with me; they would not be bullied into greeting me or even acknowledging me. But if they were so inclined, I was unimposing and friendly, maybe even familiar. It is a perfectly balanced smile.

I didn't always have a great smile. When I was brought in, my lips were more taut—almost forced—and my teeth showed too much. It was a friendly smile to be sure, but it was not ideal. Over the years I perfected it by watching a combination of sitcoms from the 1950s and commercials from the 1960s. Alluring, but unimposing was encapsulated in the lips of those decades.

I learned a proper laugh from the celebrity interviews of the 2130s, and a good balance of light banter and effciency from the homemaker shows of the early 2000s and the action !lms of the 2050s. It occurred to me that I was more of an amalgamation of these different forms of media than I was something truly my own, but that was okay, wasn't it? We weren't meant to be who we were when we started. Or, at least, I don't think I am.

They wouldn't have given me the ability to learn from social cues if I wasn't supposed to integrate them—to make them a part of me. And I'm so much better than I was when I started, to the point that I wondered if I might pass as human.
About Lesley Conner and Jason Sizemore
Lesley Conner is the Editor-in-Chief of Apex Magazine, as well as a writer and a Girl Scout leader. Her first novel The Weight of Chains was published by Sinister Grin Press in September, 2015. She has co-edited four anthologies with Jason Sizemore, including Do Not Go Quietly and Apex Magazine 2021. Their newest anthology Robotic Ambitions was released in November, 2023. She lives in Maryland with her husband, daughters, and her dog Oz, and is currently working on a new novel. To find out all her secrets, you can follow her on Twitter at @LesleyConner, on Instagram at @lesley_conner, and BlueSky at @lesleyconner.bsky.social.

Jason Sizemore is the owner and publisher of Apex Book Company and Apex Magazine. He was the editor-in-chief of Apex Magazine for seven years and has edited or co-edited ten anthologies. He has been nominated for the Hugo Award multiple times and picked up a Stoker nomination for his first anthology, Aegri Somnia. Currently, he lives in Lexington, KY, where he runs Apex from a dark basement office.