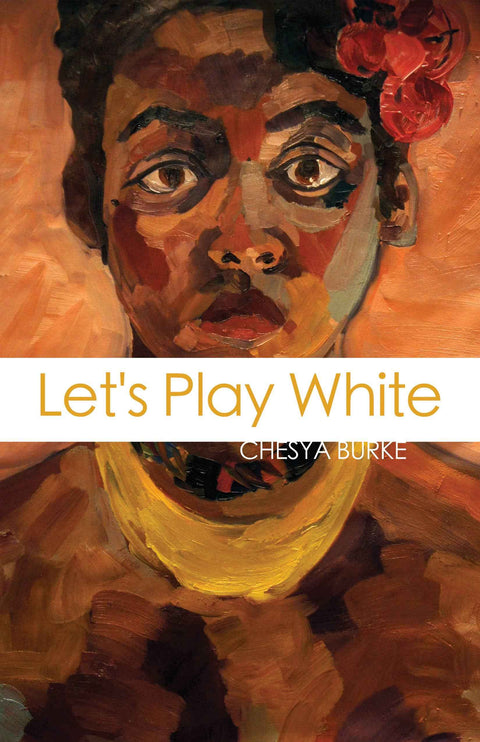 Let's Play White
ISBN TPB 9781937009991
200 pages
Let's Play White by Chesya Burke builds dark fantasy and horror short stories on African and African American history and legend, while playing with what it means to be human.
White brings with it dreams of respect, of wealth, of simply being treated as a human being. It's the one thing Walter will never be. But what if he could play white, the way so many others seem to do? Would it bring him privilege or simply deny the pain? The title story in this collection asks those questions and then moves on to challenge notions of race, privilege, personal choice, and even life and death with equal vigor.
From the spectrum spanning despair and hope in "What She Saw When They Flew Away" to the stark weave of personal struggles in "Chocolate Park," Let's Play White speaks with the voices of the overlooked and unheard. "I Make People Do Bad Things" shines a metaphysical light on Harlem's most notorious historical madame, and then, with a deft twist into melancholic humor, "Cue: Change" brings a zombie-esque apocalypse, possibly for the betterment of all mankind.
Gritty and sublime, the stories of Let's Play White feature real people facing the worlds they're given, bringing out the best and the worst of what it means to be human. If you're ready to slip into someone else's skin for a while, then it's time to come play white.
Contains the following stories:
Walter and the Three-Legged King
Purse
I Make People Do Bad Things
The Unremembered
Chocolate Park
What She Saw When They Flew Away
He Who Takes the Pain Away
CUE: Change
The Room Where Ben Disappeared
The Light of Cree
The Teachings and Redemption of Ms. Fannie Lou Mason
Cover art by Jordan Casteel
Read a sample from this book
From "Cue: Change" by Chesya Burke

CUE: Me running for my life. The zombies didn't really chase you, as much as they loomed menacingly. There was something in their demeanor that signaled they were the zombies—that they were changed and not like the rest of us. Of course, I had heard the rumors about the inner cities and that people were looting and rioting in the streets. But hell, they were my streets. And I never believed white folks until I saw evidence for myself. Call it a survival mechanism.

Survival was what had me running for my life at that moment. I had been out hustling when I realized that perhaps zombies did exist. Now, hustling may seem like a questionable occupation, but really it just meant that I was working. At Walmart, no less. I was a sales associate, which was a fancy term for cashier. It wasn't a Walmart in my own neighborhood—there weren't any there. I was in some ritzy part of town where people actually spent good money on Kleenex to wipe their noses instead of using plain toilet paper like the rest of us.

I was waiting on some chick who had too much money to spend on dyeing her hair a color that no human being had ever been born with when suddenly she reach out to touch me. You have to understand the dynamic in this situation before you realize that this was odd. These people didn't touch me; most of them placed their money on the roller to keep from touching me. And they didn't care if their money or sometimes their credit cards rolled right down the hatch, they'd just take out more.

So when this woman reached for me, I recoiled out of reflex. Then she leaned in and whispered, "It doesn't hurt. I just need to touch you, to taste you." Her eyes rolled toward the back of her head for a moment while she sniffed the air, evidently smelling me.

I looked at the woman, and then around the store. Almost everyone there was staring back at me. Over in the corner near the door, a large white man dropped to the floor and several people crowded in, attacking him. I stared at them long enough to know that I should probably get my black ass out of there. I picked up the biggest weapon I could find—an extra-long, extra hard salami roll—and backed slowly toward the door. Then I ran my black ass right back to the one part of the world where I knew I'd be safe. The projects.
About Chesya Burke
Chesya Burke has published over forty short stories in various venues including Dark Dreams: Horror and Suspense by Black Writers, Voices From the Other Side, and Whispers in the Night, each published by Kensington Publishing Corp. as well as the historical, science, and speculative fiction magazine, Would That It Were, and many more. Several of her articles appeared in the African American National Biography, published by Harvard and Oxford University Press, and she won the 2004 Twilight Tales award for short fiction. Chesya attends Agnes Scott College, where she studies creative writing and the African diaspora as it relates to race, class and gender. Many of these themes find themselves appearing in her fiction.