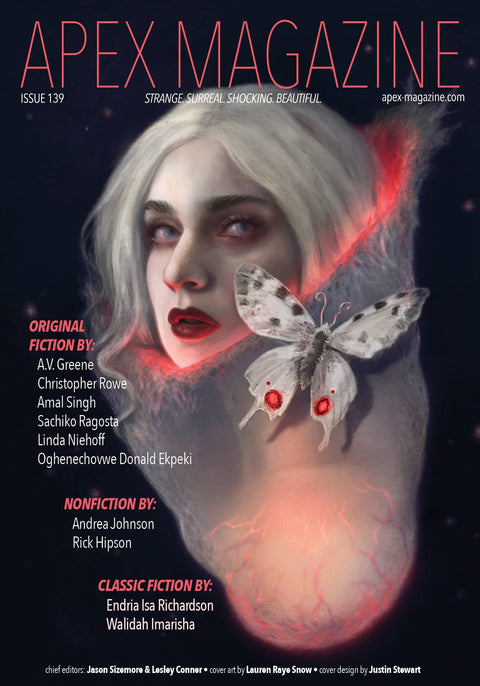 Apex Magazine Issue 139
Strange. Surreal. Shocking. Beautiful.
APEX MAGAZINE is a digital dark science fiction and fantasy genre zine that features award-winning short fiction, essays, and interviews. Established in 2009, our fiction has won several Hugo and Nebula Awards.
We publish every other month.
Issue 139 contains the following short stories, essays, reviews, and interviews.
EDITORIAL
Musings from Maryland by Lesley Conner
ORIGINAL SHORT FICTION
The Monster Fucker Club by A.V. Greene
Dolly Girl by Christopher Rowe
Island Circus by Amal Singh
But I Loved You by Sachiko Ragosta
The Discarded Ones by Linda Niehoff
The Magazine of Horror by Oghenechovwe Donald Ekpeki
FLASH FICTION
Gim of P by Benjamin DeHaan
You and Me and The End by Mona West
CLASSIC FICTION
A Young Zombie in Crisis by Walidah Imarisha
You Without Me by Endria Isa Richardson
NONFICTION
Outside of Language: Genndy Tartakovsky's Primal by Andrea Johnson
Renfield: Blood is the Life (But Only If Necessary) by Rick Hipson
INTERVIEWS
Interview with Author A.V. Greene by Marissa van Uden
Interview with Author Sachiko Ragosta by Marissa van Uden
Interview with Artist Lauren Raye Snow by Bradley Powers
DRM-free
Read a sample from this book
About